***May Contain SPOILERS from previous novels in the series!!***
The Fate of the Muse
is the third book in The Marina Tales by Derrolyn Anderson.
Between the Land and the Sea
was the first in the series which started off Marina's tales as she moved to Aptos, California to live with her aunt and cousin. She meets Ethan, a handsome boy her age, who she finds herself falling for faster than she could have ever imagined. Along the way she learns her mother, who passed away while giving birth to Marina, had a secret that no one ever knew, except her father. She was a mermaid.
When Marina learns to surf, she soon finds that she has these powers. She can talk to mermaids in their native tongue, and becomes friends with a couple of them.
In
The Tide and the Moon
, the sequel to
Between the Land and the Sea
Marina learns more about her mermaid heritage, including some secrets that come to surprise, pertaining to people in her lives. She learns more about herself as she and Ethan get closer.
Now to the third book in the series,
The Fate of the Muse...
The third book left off where the sequel ended. Marina has just finished, somewhat, overcoming the feelings of her kidnapping, and has somehow gotten back to the rhythm in her life. Ethan and her have started discussing marriage, and Marina finds herself at times both not sure if Ethan and her are ready for this huge step in their lives, especially due to the fact that they both are still under eighteen, but at the same time she hasn't been more sure about anything else in her entire life.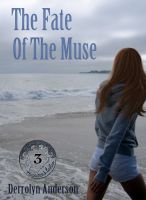 At the same time, Marina feels that her friends, Megan and Cruz (whose also her cousin), have gotten their success because of Marina's Muse, this ability she has to sort-of manipulate people into doing what she sees.
What's even scarier is that Mayor has just died. He drove off of a cliff. Marina believes, and is scared, that she may have had something to do with it, unintentionally, because she had been furious at him for trying to take away Ethan's dream land, and many others' farms away.
She scared about what's going to happen when she goes to see the Mermaid counsel at a meeting in Paris, where her other friend Shayla's got her first fashion show during Fashion Week in Paris; where they will be questioning her about kidnapping, where tabloids got pictures of her, where she had transformed into a mermaid.
Will Marina's relationship with Ethan last, especially after his ex-girlfriend comes back into the picture? Will she be able to control her Muse power? Will the mermaid counsel except her story? Was the Mayors death truly Marina's fault?
Find out in the third book in the Marina Tales,
The Fate of the Muse
.
Now to my overall thoughts:
I do enjoy this series. I enjoyed the first two very much, and even though I did like the third, it wasn't my favorite in the series. I feel like this one was a bit slow at parts, especially because Marina just sort of goes through the same things everyday. I mean she got to go to Paris AND Hawaii, within the same week in this one (which is totally AWESOME!!), but overall she spends everyday doing the same thing. Not that there is anything wrong with that, but overall I just found it a little difficult to be reading the same thing over and over again. She wakes up from having a nightmare, goes surfing with the mermaids, and goes to the farmers market to be with Ethan. When she's in Hawaii, all she thinks about is surfing.
Also, what I've found a little irritating throughout this series, is how easily things come to the people in this series. Marina has grown up with a SUPER wealthy "aunt", a woman who isn't even blood related, but hands everything to Marina. I do give props to Marina, because most of the time she doesn't want any of these things. Like the expensive clothes, by designers like Chanel, Dior, Dolce and Gabbana, etc. But there was one part in this book that got a bit to me, and it was a part where Marina rides Coach in an airplane. She complains about having to do that, because she misses the private jet. That was a bit much for me, especially because while she is trying to make herself out to be a normal teenage girl, at the same time a normal average teenage girl wouldn't be complaining about having to go on coach in an airplane, after just having come back from a vacation from BOTH France AND Hawaii!!
Also, Marina's friends ALL seem to get their ways. Megan, becomes a famous singer, with her music on the radio and becoming a Number 1 hit instantly, Shayla becomes a super model, landing her first gig in Fashion Week in Paris!, and Cruz is becoming a famous fashion designer, who to be honest I had a hard time liking in this novel, because the whole becoming a famous designer is definitely going to his head fast!
And lastly, Marina complains a lot. She is sort of a roller coaster when it comes to her emotions, because one second she is happy with Ethan, more happy than she could ever imagine, but the next she is questioning their relationship.
What I do like, is Marina and Ethan's relationship. I enjoy reading about it, and wish almost that most of the story could just be about Marina and Ethan. I also truly enjoyed the ending! It had quite a bit of detailed action scenes, and I loved how Derrolyn chose to end this one.
I am looking forward to reading the conclusion to the series,
The Turning Tides
, especially because I am interested to see how all the mermaid drama turns out, and of course Marina and Ethan's relationship.
Overall Rating:
I do recommend this series to people who enjoy stories about Mermaids, fantasy books, with a romantic twist involved! :)
You can download your copy
Amazon
,
Barnes and Noble
, or
Smashwords
all places for a very LOW price! But remember to read the first two books in the series first, before you start the third! :)
The Romance Bookie :)